After School Programs

- Portland Location
All of our youth programs are now under the umbrella of our Youth Climbing Team. The Introductory Youth Club is our starter program, The club level team is our Rec/Dev team and the is our competition team for intermediate to advanced climbers who are looking to improve. Our Elite team is invite only for the most dedicated, self-motivated and ambitious youth athletes. All of our youth programs are for climbers between the ages of 9 – 17.
For summer and break camp opportunities, see our Climbing Camps.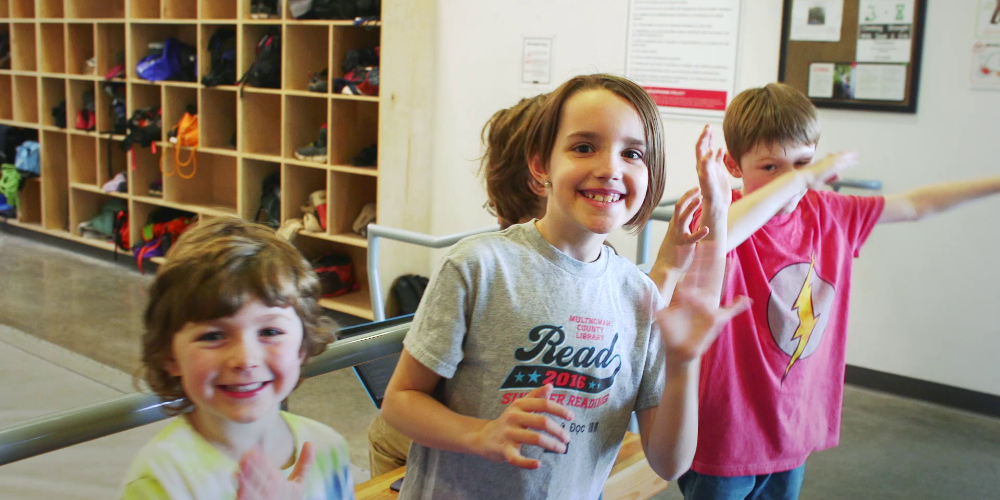 Introductory Youth Club
This is a great opportunity for climbers ages 9-13 to dip their toes into the climbing world!
Tryouts are not needed to join Intro Club. The Club consist of four 1.5 hour lessons, and will get
climbers acquainted with basic gym etiquette, technique, and belay skills.
The Intro Youth Club will be offered most
months– if you will not be able to attend all 4 lessons, we recommend signing up for a later
session.
For new climbers 14 or older who do not have belay experience, we recommend taking
the Intro to Climbing class.
Note: Intro Club does not include a gym membership.
● Practice dates: Fridays 4:30-6:00pm OR Saturdays 3:30-5:00pm
● Length of session: 4 weeks (6 hours of instruction total)
Parents can sign up for one of our Intro to Climbing classes at 1/2 price during the time a child is enrolled in the program.
Climbing Team
Please see the Climbing Team Page for more information, including try outs dates.
All of our other youth programs are under the umbrella of our Youth Climbing Team:
Recreation and Development Team: Rec-Dev is a low pressure, fun environment for those who are interested in learning more. Rec-Dev offers more structure than our Introductory Youth Club and dives more into the fundamentals of climbing.
Competition Team: This program is for the climber who is looking for the next step in the sport. If a climber is on the fence about competition climbing but still wants to be in a more focused environment, this is the place for them. This is a more comprehensive program where kids often do choose to participate in competitions but it is not required.
Elite Competition Team: Elite Comp Team is the place to try to be the best competitive climber you can be. If a climber is self-motivated and willing to do what it takes to be the best athlete they can be, this is the place for them. Every member of the team is expected to qualify for USA Climbing Regionals for both bouldering & rope climbing.
Find out which program is right for you and sign up for a placement session:
Sign up for team and club placement!
Kids Climb
A weekend drop in climbing program for kids ages 9 - 13. Up to four kids spend an hour with one of our staff instructors climbing in our instruction room.
Programs Calendar